on the Blog…
Tips, Tricks, Tools (and random thoughts)
Microsoft Office Artistic Effects Quick Reference List
Microsoft Word and PowerPoint have come a long way and are certainly offering some powerful tools to turn your presentations, etc. into unique and masterful works. One feature that is really cool, is the Picture Artistic Effects, which when used appropriately, can do away with the need for editing your images in a powerful graphics editing program before inserting it into your document. We have been working with them for a while and have found them to be "great, but…"
Three Good Reasons to Use the Image Artistic Effects in PowerPoint / Word
Twenty Two various effects off one image at the click of your mouse
At your fingertips, within your favorite word processor or presentation program, that you know where everything is
Can take a presentation from 'mundane' to 'pro' with just a little tweak
Three Not-So-Good Reasons Not to Use the Image Artistic Effects in PowerPoint / Word
As powerful as it may be, the feature is certainly not a substitute for the likes of the dedicated, more professional graphic editing programs available
Editing, or customising the effects is limited
As great as it is, when trying to select an effect off the dropdown, depending on the strength of one's computer, this can cause the program to lag (or even hang) before giving an idea of what each effect is called and what it will look like. Even then, the effect thumbnail in the dropdown doesn't give an accurate idea of your larger image.
A Word of Caution
As great as this feature is, ensure you're using the effects within reason and for a particular purpose. Remember, overall design impression is still what matters, and sometimes "less is more".
Our Artistic Effects Quick Reference List
To alleviate the frustration of waiting for the effects to show up in the dropdown, we went on a mission to identify each one, for once and for all, and to list it as a quick reference for future use. They are listed here in the video, and beneath the video in the order they appear on the Image Artistic Effects dropdown. We have also created a pdf with three different image examples, which you are welcome to download and refer to when you need it. (For personal use only.)
The List of Microsoft Office Picture Artistic Effects with Example
The List of Microsoft Office Picture Artistic Effects with Examples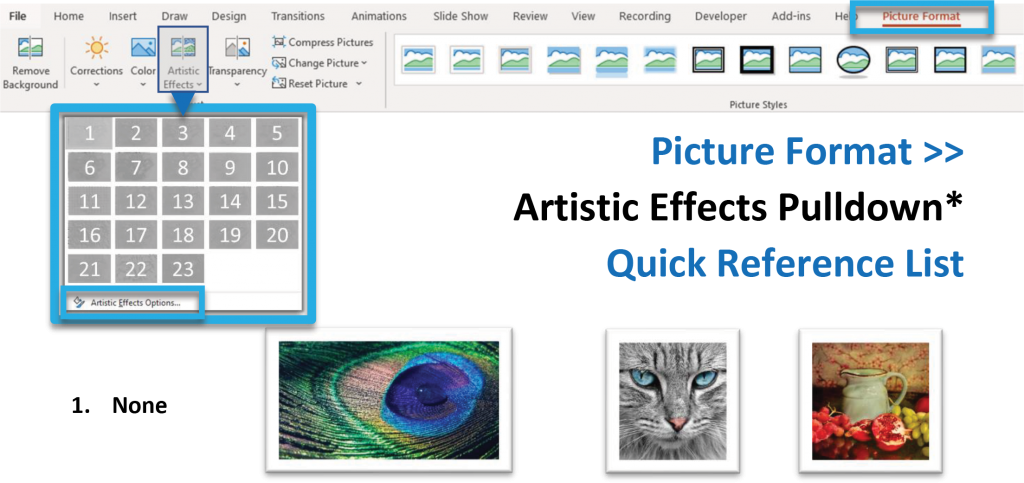 Although 23 effects are listed, the first "effect" is "None", i.e. the image in it's original form.
Image Source: All images are modified CC0 images from pixabay.com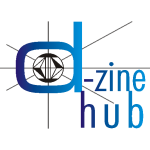 d-zine hub PUBLISHING,
d-zinehub ENGINEERING, and
d-zinehub ECO are
internal brands of d-zine hub
111 Conduit Street Johannesburg North Randburg Gauteng
2188 South Africa
We are a proud Member of the
Institute of Inventors and Innovators
d-zine hub ECO is licensed to recycle
Scrap and e-Waste